This Mega Mercedes is Built like a Tank but Costs More
The German car maker has launched its personal protection model, the newest S600 Guard based on S-Class, in India. The 4.5-tonne vehicle is impressive, but it is priced for a whooping Rs 8.9 crore. The car is claimed to be worth the cost, as it is one of the safest forms of transportation on four wheels.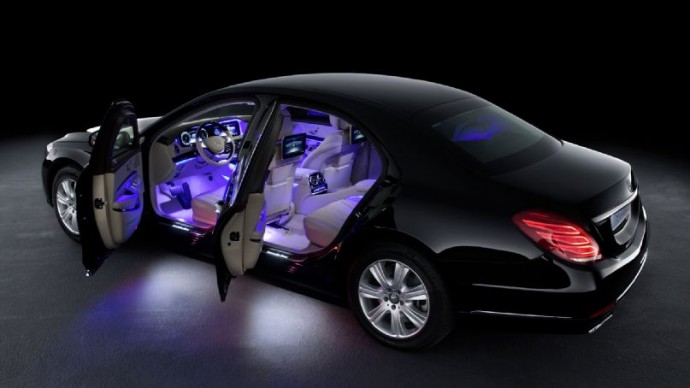 The heavy-weight car is a well-balanced in terms of functionality and visual appeal. The car is packed with special reinforced steel that is fitted between the frame and the body. It provides extra protection from bullets and rockets. The car is also equipped with thickened laminated glass coated along with polycarbonate, so breaking in through the windows is nearly impossible. Overall, the armoured car looks are made to look like a standard S-Class, with flashing lights. The tyres are a particular kind of run-flat which can be driven for around for 80km even after they are deflated. The Mercedes-Benz S 600 Guard also gets a fire fighting system that blows out fire extinguishing material from under the car.
The vehicle has upgraded brakes to help deal with the extra weight of the armour. It is powered by a 6-litre 390kW (545.5bhp) V12 engine. For a heavy vehicle, it can reach the highest speed of 210kmph. The engine is mated to the same 7G-TRONIC automatic transmission that sends power to all four wheels via the company's 4MATIC system.
Markus Rubenbauer, Head Guard Sales, who launched the  tank with Mercedes-Benz India, Managing Director and CEO, Eberhard Kern at the Buddha International Circuit in Greater Noida, said:
This is the first vehicle in Germany to be offered with the highest class of ballistic protection (VR9), which can endure rifle fire from military weapons and protection from grenades and explosive charges.
This armoured vehicle is a made-to-order car and is being targeted at politicians, diplomats and businessmen. It is the true combination of strength and beauty!
---
---
---