Check Out the Spruced Up 2015 Toyota Innova and Fortuner 4×4 Automatic
Toyota India has launched the new 2015 Innova along with the Fortuner 4×4 automatic. The updated Innova is priced at Rs.10.38 lakh while the Fortuner is priced at Rs.24.17 lakh (ex-showroom Delhi).
The new Innova sports a host of changes including dark grey dual-tone alloys, wooden finish steering wheel, oak coloured interiors along with standard dual airbags. It will also feature redesigned seats where both the second and third row are foldable. In addition, there will be a third roof vent along with a touch screen display.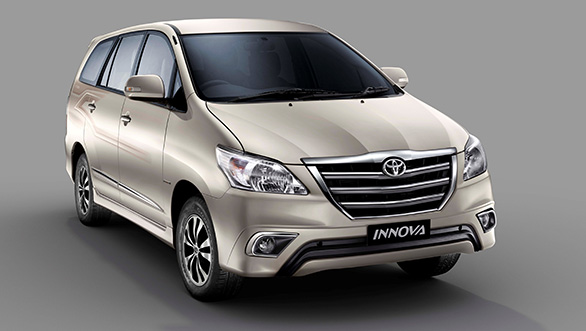 Coming to its mechanicals, the new Innova is powered by the same 2.5 litre turbo diesel engine which produces 102PS of power along with 200Nm of torque. It comes with a 5-speed manual transmission, and Toyota touts Innova's fuel efficiency at 13.31 kmpl.
Meanwhile, the updated Fortuner will also be available in a 4×4 automatic variant. The front of the new Fortuner now sports smoked headlamps, while other new design changes include 12 spoke dark grey alloys, all black interiors along with a touchscreen DVD display. The new 4×4 Fortuner is powered by a 3.0 litre, 4-cylinder, diesel motor that is good for 169bhp. Meanwhile, the Fortuner 2.5 will be available with an automatic as well as manual transmission but only with 2×2 drive mode. Just like the Innova, Fortuner also gets dual airbags.
The Japanese manufacturer is the only company to have standardised front SRS airbags across all models and variants. Toyota is setting benchmarks when it comes Corporate Social Responsibility. The company also announced that it will open its fuel cell patents at CES 2015, in a bid to make hydrogen cars a viable alternative, to bring about a new era of car technology.
---
---
---