CES 2015: Mercedes Reveals its Luxury Self-Driving Car
Mercedes-Benz has finally unwrapped the prototype of its self-driving car at its press event at CES 2015, the F015 Luxury in Motion. It's a slick piece of design with which the German automobile giant seeks to deliver a luxury experience never before felt in the modern era of cars.
The egg shaped F015's outer shell is a mix of aluminium, and high-strength steel and carbon fibre reinforced plastic, which makes it much lighter than the current S -class. The hydrogen-electric hybrid can reach a top speed of 120mph and gets from 0-60 mph in about 6.5 seconds.
But that's not what the F015 is all about, the real deal is when you get to look inside.
The car can instantly unlock when it recognises the driver's phone or smartwatch. The four doors open to 90 degrees, and Mercedes calls the cabin "lounge-like", courtesy of four rotating chairs which gives the niche appeal. These chairs pop out when the doors open up and then swivel back inside where passengers have access to a plethora of on-screen controls. The company calls it 'digital arena' which allows passengers to interact with the car's on-board controls and entertainment.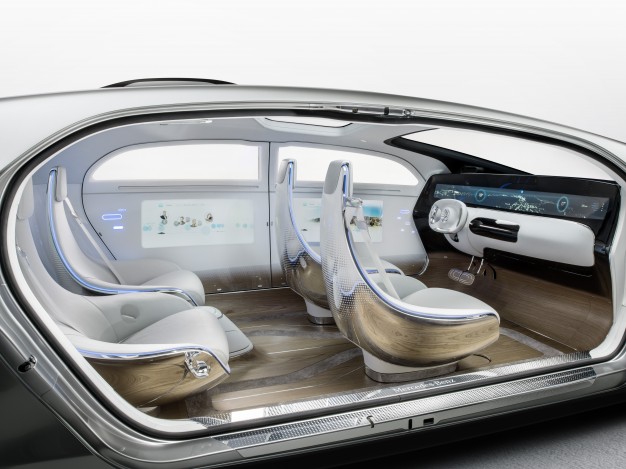 In addition, it also allows a passenger to interact using eye-tracking and gesture controls if you're in no mood to physically touch something. Everything can be accessed this way, from the stereo to the heads-up display using augmented reality to show what's happening in the outside world.
The car also has a way to communicate with the outside world with a pair of colour coded LED lights housed on the front and the back of the car. These LED lights change colour based on the car's current driving mode: it glows white in manual and blue in autonomous mode.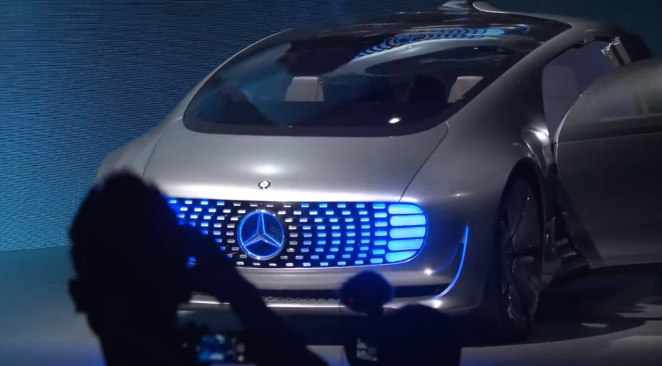 The F015 personifies the company's vision of the future. We probably won't even see the car go on sale, but its great to see that the company is inventive enough to bring this vision of drive free mobility closer to reality.
---
---
---