CES 2015: Automobile Tech Going Big
As expected, the first day of CES 2015 saw a slew of innovative car tech with big names like General Motors, Audi and Mercedes showing off what they had in store. Car Technology is going really big this year, with Toyota and Volkwagen hosting one of the biggest press conferences of the event. It seems Self-Driving Cars is the norm of the day, along with high-end in-car infotainment systems, here's a look at the latest in the world of automobile technology from CES 2015.
 Audi's  'Piloted Driving' Technology
This year, Audi showcased its self-driving concept the way its supposed to. The company sent its car nicknamed Jack, from San Francisco to Las Vegas on a two day 550 mile drive to demonstrate its self-driving technology. The car is the first major debut of its "Piloted Driving" technology that Audi says is production ready.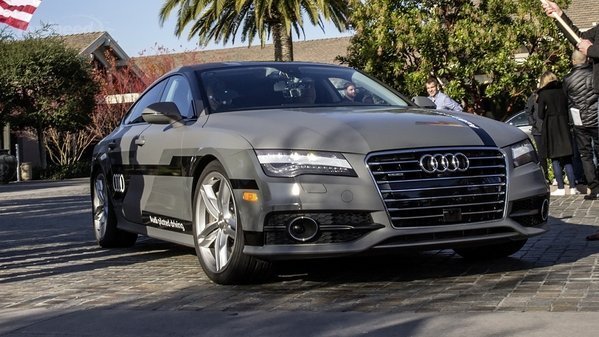 BMW Active Assist Technology
BMW presented its Self Parking technology at CES 2015. Arming its BMW i3 research car with four advanced lasers, which gives the car a 360-degree view of the environment allowing the car to park on its own.
BMW has also deployed the same ActiveAssist technology to power an automated valet system. A smartwatch loaded with the BMW app shows when the car is looking for a parking spot.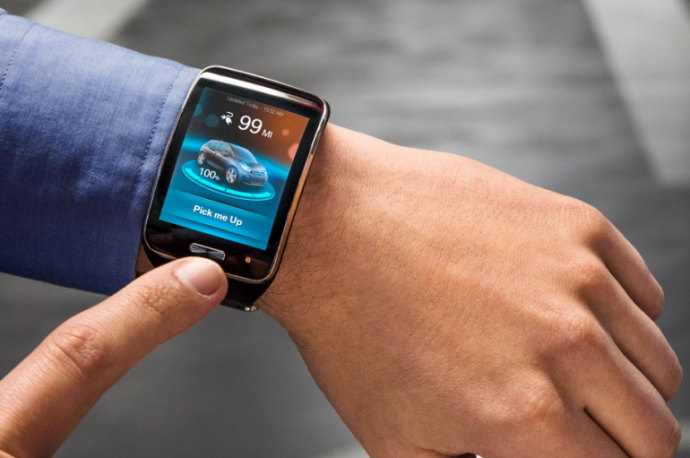 PEQ
Smart Home App Peq has joined hands with Zubie to bring a device that plugs into your car and keeps a track of your driving habits. The Peq app then connects to it and provides feedback of your driving habits, tracks location and even detects issues in the car.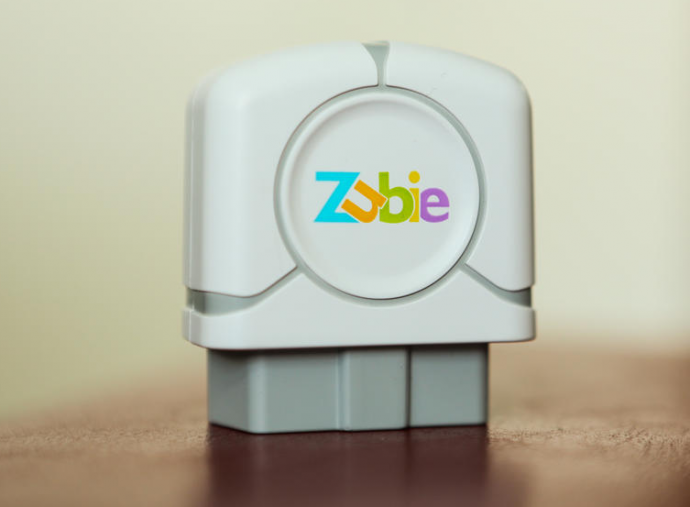 GM's OnStar Drive Assist
General Motors have unveiled their in-car system OnStar which acts as a personal assistant. It can monitor the car's battery and can start motor and fuel systems. It also seeks to identify problems before they actually occur and even provides driving tips based on customer's individual characteristics. OnStar customers can sign up for the programme that can assess their driving data and possibly provide future discounts as the company has tied up with the likes of Dunkin Donuts and Priceline.com.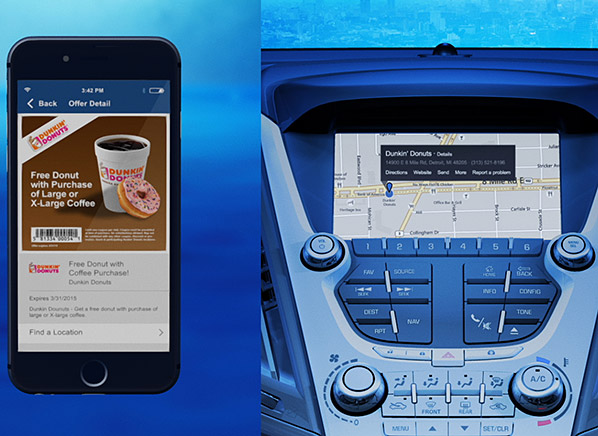 The OnStar programme will be available across all GM models by 2016.
 Volkswagen's Golf R Touch
Volkswagen debuted a prototype of its exciting Golf R Touch, an all touch screen Interface with touch, proximity and Gesture Controls that will come equipped in their new generation of cars. Similar to Nvidia's Drive CX, the Golf R Touch is the company's vision of what future car interfaces would look like.
It sports a 12.8 inch main screen which is the central panel of the R Touch crammed with all the infotainment functions. While there's a small 8 inch screen underneath to operate climate control and other similar features. Meanwhile, a 12.3 inch widescreen replaces your classic instrument panel.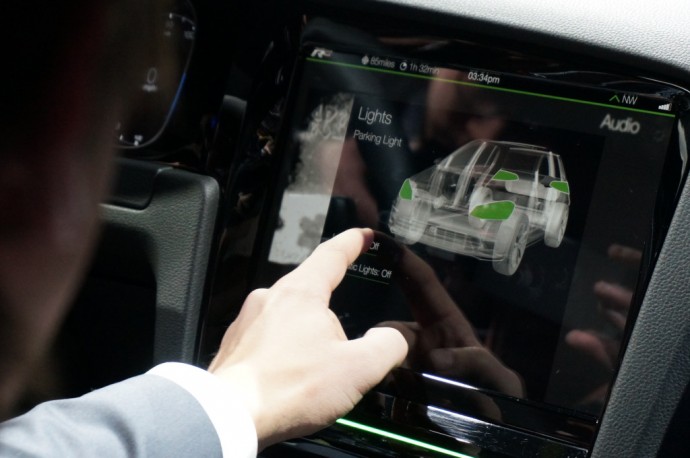 The whole idea behind the concept is to spruce up the existing touchscreen in cars, matching it up with the standards set by modern day smartphones and tablets.
Toyota Mirai
Prominent physicist and futurist Michio Kaku took the centre stage to talk about its hydrogen powered cars. Japanese Automaker, Toyota introduced its highly anticipated Mirai, which goes on sale in October in US, becoming the second hydrogen vehicle market, after Hyundai ix35. A mid-sized four door Sedan, its front wheels are driven by electric motors. While the electricity that powers the motors is generated onboard, on-demand, as per requirements. By simply combining Hydrogen with Oxygen, it produces zero emissions other than water paper.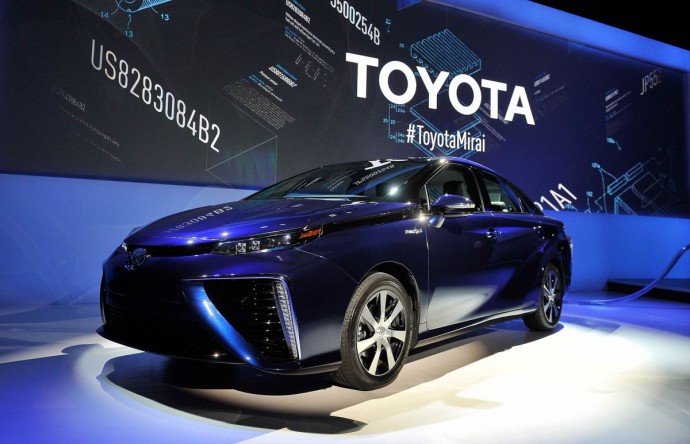 In addition, the Mirai is capable of supplying enough energy to power your home appliances and consumer electronics for upto a week in the event of emergency.
Meanwhile, the carmaker also announced that it will open its fuel cell patents in a bid to make hydrogen cars a viable alternative, to bring about a new era of car technology.   This means any company can use their patents to develop hydrogen technology without having to pay Toyota for any royalties.
Volkswagen's MIB II Dash Electronics
The German carmaker announced that their new cars will integrate Apple's CarPlay and Android Auto will be available later this year. Both will be compatible with VW's MIB II dash electronics. MIB II also supports MirrorLink, a similar technology supported by Sony.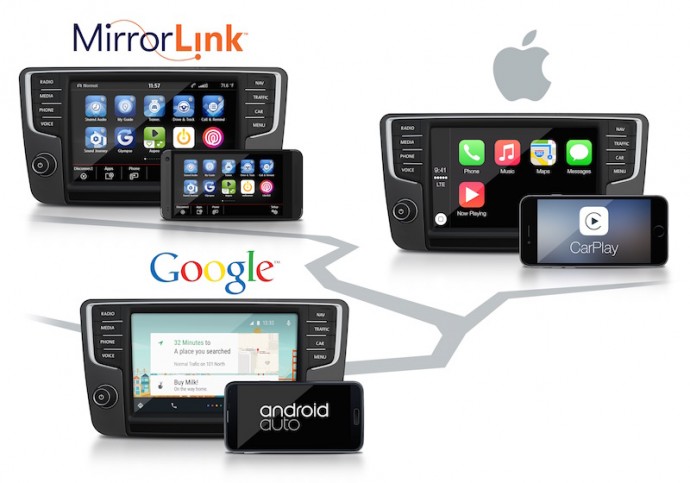 Car  Technology  seems to be one of the major highlights of CES 2015. This major trade technology show saw some of the major announcements made by prominent car manufacturers, and with three more days to go, we are certainly expecting other big announcements. So stay tuned for the latest in the world of automobile.
---
---
---