Vintage Cars Worth Millions Found Stacked Away in a 100-Year Old French Barn
In some distant corner of rural western France, 60 vintage cars were found in a makeshift building which had been rotting away for over 50 years. Obviously, they weren't found in immaculate condition. The cars belonged to French transportation mogul Roger Baillon, who apparently forgot that he had tucked away his vintage collection in a barn.
Over the course of time, cars got laden with rust and dust, some of which aren't even recognizable. However, these cars still exhibit that classic beauty, for instance, the Talbot Lago T26 Cabriolet Saoutchik in the image below:
The best part of the collection is the 1961 Ferrari 250 GT SWB California Spyder, found buried under a pile of magazines, along with a 1956 Maserati A6G Gran Sport Frua, one of three ever produced. Prediction for the sale of Ferrari is around $15 million, one of the highlights of the collection, one of the 37 ever manufactured. Here's how the same Ferrari could have looked like in its heyday.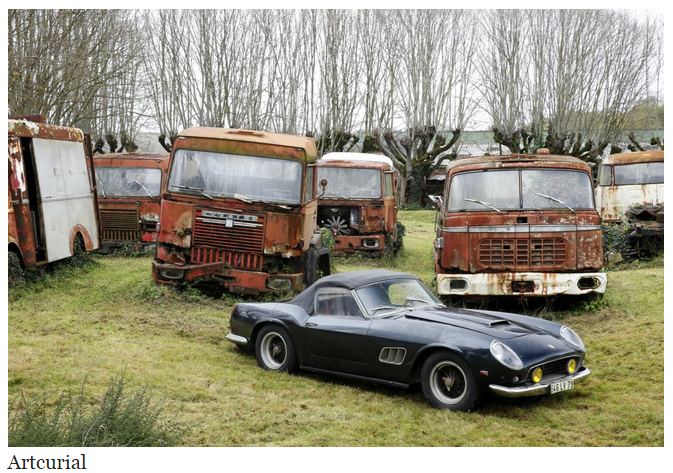 Meanwhile, the Maserati is expected to sell for $1.5 million. All cars in a condition to go on sale will be auctioned in Paris next February by Artcurial.
---
---
---