Bentley Launches the New Flying Spur in India : Eyes On
Bentley today launched the new Flying Spur 2014 in India for a price starting Rs. 3.10 Crore Ex showroom New Delhi. Bentley claims that the new Flying Spur is the fastest road-going luxury sedan in the world, powered by Bentley's new 6.0-litre, twin turbo W12 engine which develops 625 PS, sprinting from 0-100km/h in just 4.6 seconds. The top speed of the new Flying spur has been raked at 324 KM/hr.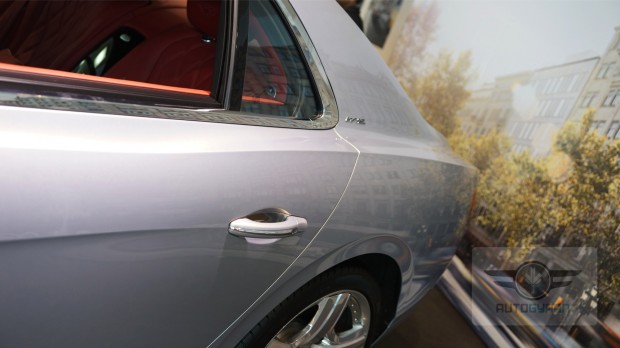 Adding a whole slew of new curves and aggressive lines, a beautiful new front grille and the patent badge the new Bentley Flying Spur will definitely catch an eye. The chassis of the new Flying Spur is 4% more rigid than the previous generation thanks to a torsional stiffness of 36,500 Nm/degree. The new Bentley Flying Spur also has a luxurious plush leather interior with 600 new parts,  only the sun visors, grab handles, armrests and some of the front console and controls carried over from the previous generation.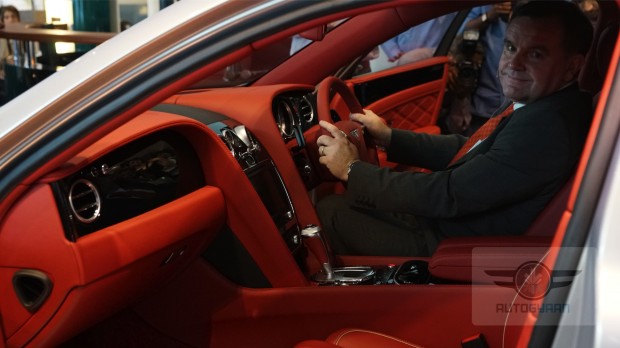 [pullquote_left]For the Young Elite[/pullquote_left]
The Flying Spur is also targeting the young elite by adding a series of new technology into the vehicle. Central infotainment is controlled through a high resolution 8" touch-screen interface, complete with Bentley's advanced satellite navigation system and Bluetooth connectivity, while infotainment features can be controlled by voice activation. The new Bentley iPhone app allows the passenger to control almost all elements of the vehicle wirelessly, especially if you wish to ping the chauffeur for the car, you can do so with the app.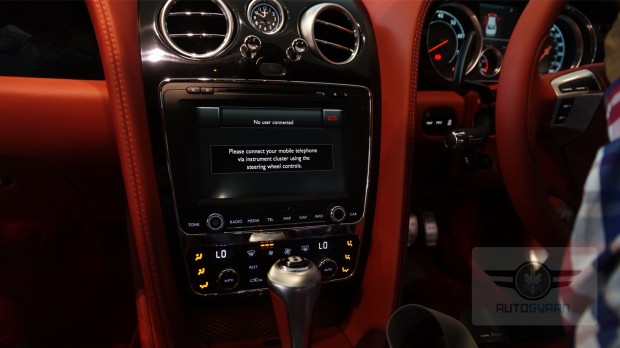 6.0-litre, twin turbocharged, 48-valve W12 is the natural choice to power the fastest ever Bentley four-door. Now delivering 625 PS (616 bhp) at 6,000 rev/min and a staggering 800 Nm (580 lb ft) of torque from only 2000 rev/min, the W12 has recently undergone a complete engine management system upgrade to the latest Bosch ME17 interface. Improved torque management, turbocharger control, driveability and emissions performance all result from the adoption and optimisation of the new system, with a resulting improvement in low speed responsiveness.
[pullquote_left]A shifter thats seamless and economical[/pullquote_left]

The new Flying Spur is equipped with a quick-shift 8 speed automatic transmission from ZF. The shifting happens in under 200 milliseconds, and an optimised set of gear ratios keeps the engine in its most efficient operating range under light loads and when cruising, contributing in an overall improvement in fuel consumption and CO2 emissions of more than 13 per cent over the outgoing model. The new Flying Spur delivers a combined cycle fuel economy of 19.2 mpg (14.7 litres/100 km), and CO2 emissions of 343 g/km – mighty impressive figures for a 12-cylinder ultra-luxury vehicle.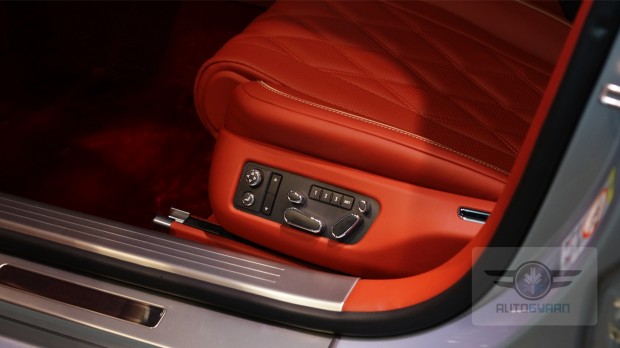 Bentley has achieved a better ride by softening the spring rates in the front and rear by 10 per cent and 13 per cent, and Anti-roll bars are softened by 13 per cent and 15 per cent to improve single wheel impact absorption.
The new Bentley Flying Spur will be available for booking at Exclusive Motors in India starting this week.
---
---
---