Chicago Auto Show 2016 : Mercedes Shows off the Sprinter Extreme Concept
There are cars, and more cool looking cars, and then, at the top of the food chain, there is the Mercedes Sprinter Extreme Concept. This personification of coolness looks like something straight out of a post apocalyptic zombie killing movie. The Sprinter Extreme makes you want to get behind the wheels and run over some ugly un-dead cannibals yourself.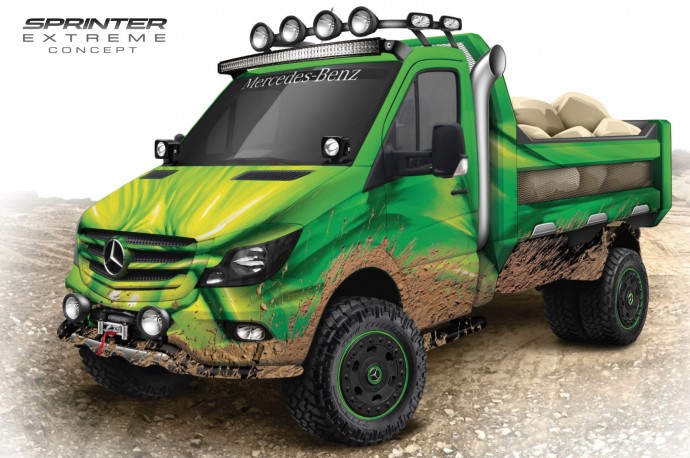 This beast is Extreme, durable, scary and everything more you ever wished for in a uber cool zombie killing machine. Built to promote the heavy-duty nature of the Sprinter Cab Chassis, Mercedes partnered with RENNtech in the creation of the Sprinter Extreme Concept which is over 20 feet long and has 6,400lbs of payload capacity and 7,500lbs of towing capacity.  
"The Sprinter Cab Chassis is the most capable heavy-duty vehicle in its segment," said Bernie Glaser, Vice President of Mercedes-Benz Vans in the USA. "The Sprinter Extreme concept has super-strength, unlimited hard-working capability and an aggressive design. Unlike most concepts, the foundation for the Sprinter Extreme can be ordered at a Mercedes or Freightliner dealership today with the help of our MasterUpfitter program."
Sadly, this crazy vehicle showcased at the Chicago Auto Show,2016,  like most amazing things is not going to be available for sale. A spokesperson from the company announced that Mercedes plans to keep this as a concept only.
---
---
---