Audi Unveils its Sports Car RS 6 Avant in India, Priced at Rs. 1.35 Crore
Today, German luxury car manufacturer Audi introduced the improved version of A6 Avant, RS 6 Avant, in India. The luxury sports car is priced at Rs. 1.35 crore (ex-showroom Delhi and Mumbai) and is available at all Audi dealerships across India.
The RS 6 Avant is the fourth sports car by Audi this year and the first to possess an 'Avant' body style. At the heart of the machine is a 4.0 TFSI twin-turbo V8 engine which displaces 3,993 cc and churns out 552bhp power. The company claims that it can accelerate from 0 to 100 km in just 3.9 seconds, and hits the top speed of 305 km/hr. It is said to achieve comparatively low fuel consumption and low CO2 emissions, along with giving excellent performance.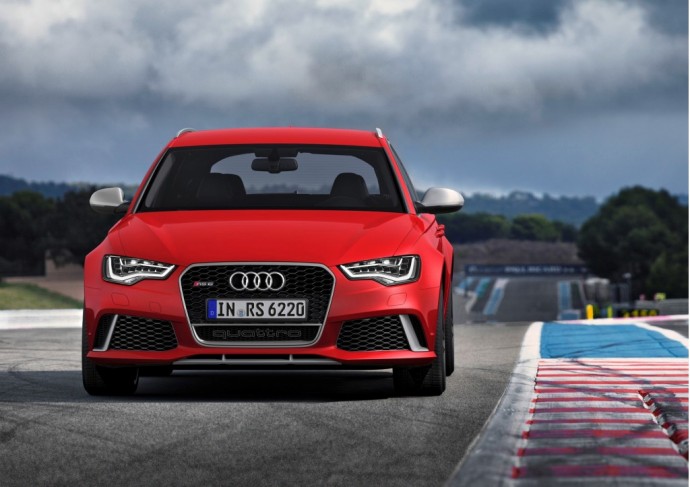 Audi India Head Joe King said at the launch –
Embodying our philosophy of 'Vorsprung durch Technik', the Audi RS 6 Avant is the first sports car in India with an Avant body style. Having set the trend of many firsts with the launch of the first compact luxury sedan in India – the Audi A3, first compact luxury open top convertible – the Audi A3 Cabriolet, India's first production car with laser high beam lighting – the limited edition Audi R8 LMX and the introduction of the Matrix LED headlights with the Audi A8 L, we believe it's about time to introduce the Avant to luxury connoisseurs in the country. With its low, flowing roofline, the Audi RS 6 Avant is a sure head turner from every angle. We are confident that the elegant dynamics of the car will appeal to auto enthusiasts seeking style, speed and luxury.
Audi RS 6 Avant is quite a looker with a striking body, sculpted grille, bumpers, air intakes and arrow-shaped LED headlamps. The adaptive air suspension lowers the body of Audi RS 6 Avant by 20mm.
The automobile manufacturer will bring a limited number of RS 6 Avant in India. The Audi RS 6 Avant comes in nine different colors – Floret Silver, Prism Silver, Glacier White, Mythos Black, Panther Black, Misano Red, Daytona Grey, Nardo Grey, Sepang Blue and Daytona Grey Matt finish.
Since the past two years, Audi is ahead of its arch rival Mercedes-Benz in the Indian car market. It plans to launch a total of 10 cars in India by the year-end, raising up the competition for other car manufacturers.
---
---
---