2016 Porsche Cayman GT4 Teased Ahead of its Official Unveiling
The 911 GT3 finally gets its younger sibling, as the Porsche Cayman GT4 now gets an official teaser trailer ahead of its official launch in Geneva. Porsche's latest street racer has many of its upgrade taken straight off the 911 GT3.
Under the hood, the car sports a 3.8 litre mid-mounted engine tuned to deliver 385HP at 7,400rpm. Powering the drivetrain is a 6-speed manual gearbox instead of a dual-clutch, which gets a dynamic gearbox to cut down on vibrations of the entire drivetrain.
The Porsche Cayman GT4 zips from 0-60 mph in just about 4.2 seconds while top speed is claimed to be at 183 mph. Meanwhile, the Cayman GT4's lap time in Germany's Nurburgring is comparable to times set by the 911 GT3 and even Ferrari's 430 Scuderia.
To make the GT4 a little more enthralling, Porsche offers a plethora of options including carbon ceramic brakes, and carbon fibre backed sport bucket seats. In addition, there is a custom Sports Chrono Package featuring an app designed to improvise your track skills.
Coming onto the interiors, the Cayman GT4 sports leather and Alcantara trim, along with a sports steering wheel with colour contrast stitching. Owing to the GT4's compact dimensions, the sports steering wheel is said to allow precise control and direct feedback.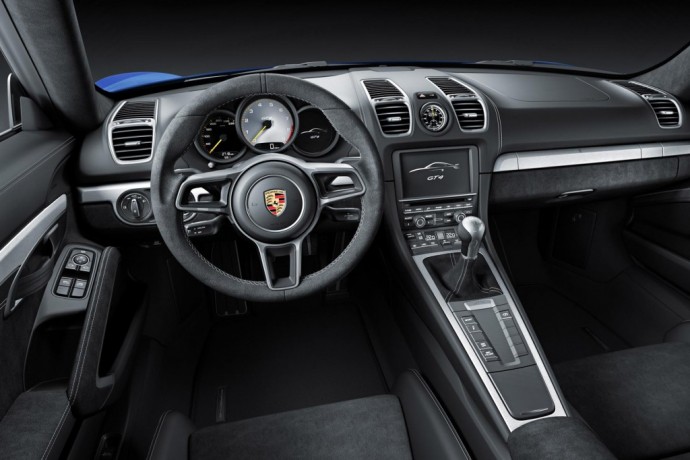 The Porsche Cayman GT4 makes its world debut at the 85th Geneva Motor Show on March 3. Till then, stay to AutoGyaan for more updates from the Geneva Motor Show.
Do check out the official unveiling video below:
https://www.youtube.com/watch?v=2GmLnDmBW10
---
---
---