Honda Introduces a Super Smart Driver-Assistive Safety Technology
Honda Motor has announced a new driver-assistive system, Honda SENSING. The technology will first be equipped on their upcoming release 'Legend', to go on sale in Japan before the year end, and then successively to more models in the future.
This new driver-assistive system is a step towards a collision-free society according to the Japanese carmaker. This initiative of a collision-free society is a part of Honda's global safety concept, 'Safety for Everyone.' Honda SENSING system consists of two types of sensors. First one is a millimeter-wave radar located inside the front grille, and the other is a monocular camera mounted on the upper, inside part of the windshield.
When the system detects a possibility of a collision with a pedestrian, it provides visual and audio warnings, and subsequently turns the steering wheel in the other direction to help the driver avoid the collision.
With added tweaks in performance, the millimeter-wave radar expands its scope of detecting pedestrians regarded as being hard to recognise due to their low rate of radio wave reflection, as well as the position and speed of the target object. Meanwhile, the monocular camera identifies attributes and size of pedestrians and other target objects which come in the range within approximately 60 m ahead of the vehicle, achieving recognition with high accuracy.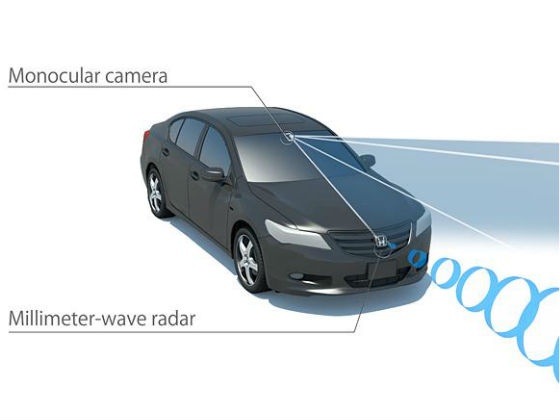 Honda has long been committed to the development of various driver-assistive technologies to support safe and comfortable driving of its customers. The company will continue evolving its advanced driver-assistive technologies on a global basis, adding the newly developed Honda SENSING, to further improve the safety and comfort of its products.
---
---
---