Check Out the Spruced Up Lamborghini Huracan Super Trofeo
Shout out to all you racing fans, here is the new non-street-legal Lamborghini Huracan Super Trofeo race car. Designed for the one-make Blancpain Super Trofeo series, the Huracán picks up where its predecessor, the Gallardo, left off. The holy grail of supercar was unveiled at the Quail Motorsports gathering in Carmel. This ceremony is the part of the Monterey Car Week which was concluded on Sunday with the coveted annual Pebble Beach Concours d'Elegance.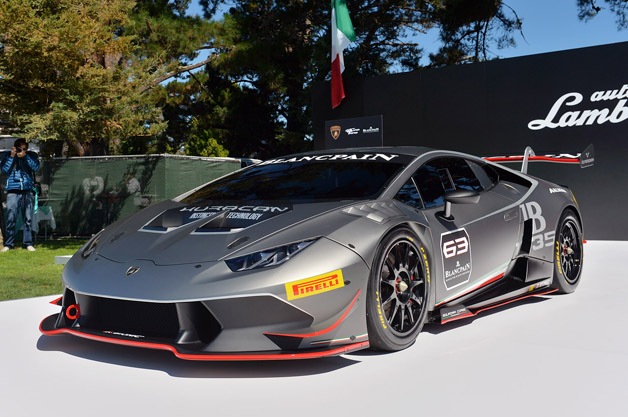 The car is the 2015 Lamborghini Huracán LP 620-2 Super Trofeo, and as its name suggests its specifications are very different to those of the outgoing Gallardo LP 570-4 Super Trofeo—the biggest being the new car's rear-wheel-drive configuration.
This track-only beast costs a whooping amount in the vicinity of $300,000. The car will take part in the Blancpain Super Trofeo racing series with the same spec car difference being the driver. The race consist of three individual series in namely, North America, Europe and Asia; the three finalists will meet for the world final.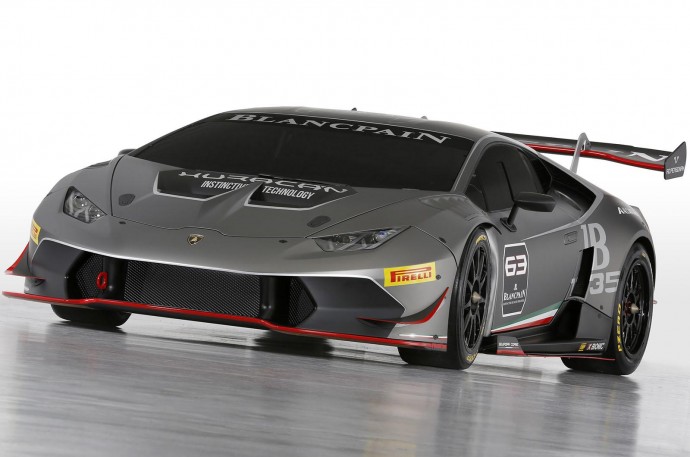 Its engine bay is equipped with a ten-cylinder and the racer boasts 620 horsepower, up just ten ponies from the LP610-4. But,  the Super Trofeo tips the scales at 2,800 pounds, nearly 400 pounds less than the standard model, thanks to the removal of the all-wheel-drive system. That's right, it sends its power to the rear wheels.
Lamborghini says the decision to switch to rear-wheel drive for the new season is to help accelerate the Super Trofeo drivers' preparation for GT racing, perhaps hinting at a wider scope for the Italian marque's motorsport future. Switching to rear-wheel drive has also allowed engineers to reduce the weight of the cars, which now tip the scales at just 2,800 pounds. That's a saving of about 330 pounds compared to the weight of the road-going Huracán.
The new aerodynamics package also provides better efficiency as well as improved traction and downforce. Key components include a ten-position rear wing, front and rear diffusers as well as adjustable front air intakes.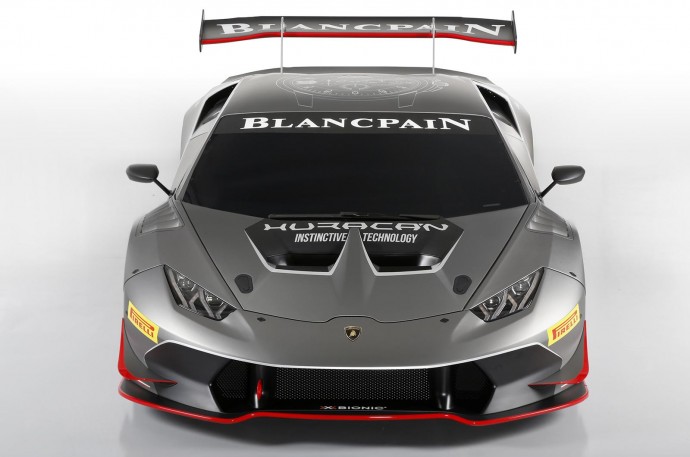 The Huracán is also due to be developed into a GT3-spec car that will serve as a replacement for the present Gallardo GT3. The Gallardo GT3 competes primarily in the Blancpain Endurance Series, with one of the cars fielded by Lamborghini motorsport partner Reiter Engineering.
 
---
---
---