US Based Indian Motorcycles Launched in India
Polaris India today launched the much awaited motorcycles in the country, the Indian Motorcycles. The today's launch brings the entire Indian Motorcycle's Chief range including, Chief Classic, Indian Chief Vintage and Indian Chieftain in India.
The Indian Motorcycles as a brand was established in back in 1905 and is known for classic styling while keeping the heritage and modern technology. The Chief range is powered by a Thunder Stroke 111 engine that gives out 139 Nm of torque at 2600 rpm. The Thunder Stroke 111 engine features 111 cubic inch displacement and delivers the raw power. Moving on, the 49 degree V-Twin engine is the new heartbeat of the Indian Motorcycles, marking the first clean-sheet Indian motorcycle engine design in seven decades.
The new Indian Motorcycles come with parallel pushrod tubes, finned heads, down firing exhausts and left sided air intake. The Indian Motorcycles Thunder Stroke 111 Engine is a 1811 cc engine, which is air cooled, it has a high capacity semi-dry sump oil system, oversized oil radiator. The timing system include three camshafts, pushrods, 2 valves per cylinder- which act through a maintenance free hydraulic valve lifters. These bikes work on a electronic sequential port fuel injection and Electronic Throttle control system. The compression ratios is 9:5:1 and the transmission is 6 speed overdrive helical gearbox.
The Indian Motorcycles: Indian Chief Classic, Chief Vintage and Chieftain — priced at Rs 26.5 lakh, Rs 29.5 lakh and Rs 33 lakh (ex-showroom, Delhi), respectively, are all powered by 1,811 cc engines.
INDIAN CHIEF VINTAGE SPECIFICATIONS: 
| | |
| --- | --- |
| ENGINE TYPE | THUNDER STROKE™ 111 |
| DISPLACEMENT | 1811 CC (111 CU IN) |
| BORE X STROKE | 101MM X 113MM (3,976″ X 4,449″) |
| COMPRESSION RATIO | 9,5 : 1 |
| ELECTRONIC FUEL INJECTION SYSTEM | CLOSED LOOP FUEL INJECTION / 54MM BORE |
| | |
| --- | --- |
| PEAK TORQUE RPM | 2600 RPM |
| PEAK TORQUE (95/1/EC NM) | 138,9 NM (102,4 FT-LBS) |
| | |
| --- | --- |
| PRIMARY DRIVE | GEAR DRIVE WET CLUTCH |
| CLUTCH | WET, MULTI-PLATE |
| | |
| --- | --- |
| 1ST | 9,403 : 1 |
| 2ND | 6,411 : 1 |
| 3RD | 4,763 : 1 |
| 4TH | 3,796 : 1 |
| 5TH | 3,243 : 1 |
| 6TH | 2,789 : 1 |
| FINAL DRIVE | 2,2 : 1 |
| | |
| --- | --- |
| SUSPENSION: FRONT – TYPE/TRAVEL | TELESCOPIC FORK/119 MM (4.7 IN) – 46MM CARTRIDGE FORKS WITH DUAL RATE SPRINGS |
| SUSPENSION: REAR – TYPE/TRAVEL | SINGLE SHOCK / 94 MM |
| BRAKES/FRONT | DUAL / FLOATING ROTOR / 4 PISTON CALIPER |
| BRAKES/REAR | SINGLE / FLOATING ROTOR / 2 PISTON CALIPER |
| TYRES/FRONT | DUNLOP® AMERICAN ELITE 130/90B16 67H |
| TYRES/REAR | DUNLOP® AMERICAN ELITE 180/65B16 81H |
| WHEELS | 40 SPOKE 16″ X 3.5″ FRONT AND 16″ X 5″ REAR |
| EXHAUST SYSTEM | SPLIT DUAL EXHAUST W/ CROSS-OVER |
| | |
| --- | --- |
| LENGTH | 2634 MM (103,7 IN) |
| GROUND CLEARANCE | 142 MM |
| WIDTH (US) | 40,4 IN |
| WIDTH (INTL) | 1012 MM |
| HEIGHT | 1490 MM |
| SEAT HEIGHT | 660.4 MM |
| WHEELBASE | 1729.7 MM |
| RAKE | 29° |
| TRAIL | 155.0 MM |
| FUEL CAPACITY | 20.8 LITRES |
| WEIGHT (EMPTY TANK / FULL OF FUEL) | 364 KG /379 KG (801 LBS / 835 LBS) |
| GVWR | 1260 LBS |
| | |
| --- | --- |
| ELECTRIC | TANK MOUNTED ELECTRONIC SPEEDOMETER WITH ODOMETER, DUAL TRIPMETERS, DIGITAL TACHOMETER, AMBIENT AIR TEMPERATURE, FUEL RANGE, AVERAGE FUEL ECONOMY BATTERY VOLTAGE, GEAR POSITION DISPLAY, REAL-TIME CLOCK, VEHICLE TROUBLE CODE READOUT, HEATED GRIP LEVEL (IF HEATED GRIPS INSTALLED), LOW ENGINE OIL PRESSURE, AND 9 LED TELLTALE (X) TAIL INDICATORS: CRUISE CONTROL ENABLED, CRUISE CONTROL SET, NEUTRAL, HIGH BEAM, TURN SIGNAL, ABS, CHECK ENGINE, AND MPH OR KM/H UNIT DESIGNATION. TANK MOUNTED ELECTRONIC FUEL GAUGE WITH LOW FUEL LED INDICATOR. |
| | |
| --- | --- |
| STANDARD EQUIPMENT | ABS – – CAST ALUMINUM FRAME WITH INTEGRATED AIR-BOX – – CRUISE CONTROL – – HIGHWAY BAR – – INDIAN® SCRIPT TANK BADGE – – KEYLESS START – – LIGHT BAR – – PREMIUM LEATHER SEATS – – QUICK RELEASE LEXAN WINDSHIELD – – QUICK RELEASE VINTAGE LEATHER SADDLE BAGS – – VINTAGE FENDER BADGE |
INDIAN CHIEF CLASSIC: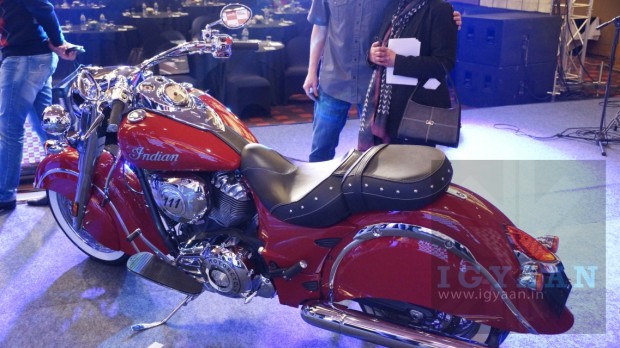 | | |
| --- | --- |
| ENGINE TYPE | THUNDER STROKE™ 111 |
| DISPLACEMENT | 1811 CC (111 CU IN) |
| BORE X STROKE | 101MM X 113MM (3,976″ X 4,449″) |
| COMPRESSION RATIO | 9,5 : 1 |
| ELECTRONIC FUEL INJECTION SYSTEM | CLOSED LOOP FUEL INJECTION / 54MM BORE |
| | |
| --- | --- |
| PEAK TORQUE RPM | 2600 RPM |
| PEAK TORQUE (95/1/EC NM) | 138,9 NM (102,4 FT-LBS) |
| | |
| --- | --- |
| PRIMARY DRIVE | GEAR DRIVE WET CLUTCH |
| CLUTCH | WET, MULTI-PLATE |
| | |
| --- | --- |
| 1ST | 9,403 : 1 |
| 2ND | 6,411 : 1 |
| 3RD | 4,763 : 1 |
| 4TH | 3,796 : 1 |
| 5TH | 3,243 : 1 |
| 6TH | 2,789 : 1 |
| FINAL DRIVE | 2,2 : 1 |
| | |
| --- | --- |
| SUSPENSION: FRONT – TYPE/TRAVEL | TELESCOPIC FORK/119 MM (4.7 IN) – 46MM CARTRIDGE FORKS WITH DUAL RATE SPRINGS |
| BRAKES/FRONT | DUAL / FLOATING ROTOR / 4 PISTON CALIPER |
| SUSPENSION: REAR – TYPE/TRAVEL | SINGLE SHOCK / 94 MM |
| BRAKES/REAR | SINGLE / FLOATING ROTOR / 2 PISTON CALIPER |
| TYRES/FRONT | DUNLOP® AMERICAN ELITE 130/90B16 67H |
| TYRES/REAR | DUNLOP® AMERICAN ELITE 180/65B16 81H |
| WHEELS | 40 SPOKE 16″ X 3.5″ FRONT AND 16″ X 5″ REAR |
| EXHAUST SYSTEM | SPLIT DUAL EXHAUST W/ CROSS-OVER |
| | |
| --- | --- |
| LENGTH | 2630 MM (103,5 IN) |
| WIDTH (INTL) | 1012 MM (39,8 IN) |
| HEIGHT | 1176 MM |
| SEAT HEIGHT | 660.4 MM |
| WHEELBASE | 1729.7 MM |
| GROUND CLEARANCE | 140 MM |
| RAKE | 29° |
| TRAIL | 155.0 MM |
| FUEL CAPACITY | 20.8 LITRES |
| WEIGHT (EMPTY TANK / FULL OF FUEL) | 354 KG / 370 KG (778 LBS / 812 LBS) |
| GVWR | 1260 LBS |
| | |
| --- | --- |
| STANDARD EQUIPMENT | ABS – – CAST ALUMINUM FRAME WITH INTEGRATED AIR-BOX – – CRUISE CONTROL – – KEYLESS START – – LIGHT BAR – – PREMIUM LEATHER SEATS |
| | |
| --- | --- |
| ELECTRIC | TANK MOUNTED ELECTRONIC SPEEDOMETER WITH ODOMETER, DUAL TRIPMETERS, DIGITAL TACHOMETER, AMBIENT AIR TEMPERATURE, FUEL RANGE, AVERAGE FUEL ECONOMY, BATTERY VOLTAGE, GEAR POSITION DISPLAY, REAL-TIME CLOCK, VEHICLE TROUBLE CODE READOUT, HEATED GRIP LEVEL (IF HEATED GRIPS INSTALLED), LOW ENGINE OIL PRESSURE, AND 9 LED TELLTALE INDICATORS: CRUISE CONTROL ENABLED, CRUISE CONTROL SET, NEUTRAL, HIGH BEAM, TURN SIGNAL, ABS, CHECK ENGINE, AND MPH OR KM/H UNIT DESIGNATION; TANK MOUNTED ELECTRONIC FUEL GAUGE WITH LOW FUEL LED INDICATOR |
INDIAN CHIEFTAIN SPECIFICATIONS: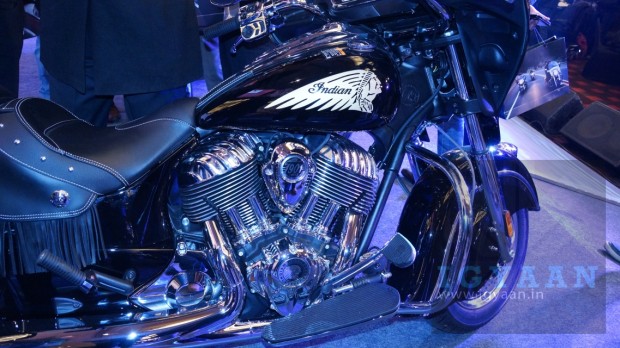 | | |
| --- | --- |
| ENGINE TYPE | THUNDER STROKE™ 111 |
| DISPLACEMENT | 1811 CC (111 CU IN) |
| BORE X STROKE | 101MM X 113MM (3,976″ X 4,449″) |
| COMPRESSION RATIO | 9,5 : 1 |
| ELECTRONIC FUEL INJECTION | CLOSED LOOP FUEL INJECTION / 54MM BORE |
| | |
| --- | --- |
| PEAK TORQUE RPM | 2600 RPM |
| PEAK TORQUE (95/1/EC NM) | 138,9 NM (102,4 FT-LBS) |
| | |
| --- | --- |
| PRIMARY DRIVE | GEAR DRIVE WET CLUTCH |
| CLUTCH | WET, MULTI-PLATE |
| | |
| --- | --- |
| 1ST | 9,403 : 1 |
| 2ND | 6,411 : 1 |
| 3RD | 4,763 : 1 |
| 4TH | 3,796 : 1 |
| 5TH | 3,243 : 1 |
| 6TH | 2,789 : 1 |
| FINAL DRIVE | 2,2 : 1 |
| | |
| --- | --- |
| SUSPENSION: FRONT – TYPE/TRAVEL | TELESCOPIC FORK/119 MM (4.7 IN) – 46MM CARTRIDGE FORKS WITH DUAL RATE SPRINGS |
| SUSPENSION: REAR – TYPE/TRAVEL | SINGLE SHOCK W/AIR ADJUST / 114 MM |
| BRAKES/FRONT | DUAL / FLOATING ROTOR / 4 PISTON CALIPER |
| BRAKES/REAR | SINGLE / FLOATING ROTOR / 2 PISTON CALIPER |
| TYRES/FRONT | DUNLOP® ELITE 3 130/90B16 73H |
| TYRES/REAR | DUNLOP® ELITE 3 180/60R16 80H |
| WHEELS | CAST 16″ X 3.5″ FRONT AND 16″ X 5″ REAR |
| EXHAUST SYSTEM | SPLIT DUAL EXHAUST W/ CROSS-OVER |
| | |
| --- | --- |
| LENGTH | 2571 MM (101,2 IN) |
| WIDTH (US) | 1022 MM (40,2 IN) |
| WIDTH (INTL) | 1010.9 MM |
| HEIGHT | 1529 MM |
| SEAT HEIGHT | 660.4 MM |
| WHEELBASE | 1668.8 MM |
| GROUND CLEARANCE | 140 MM |
| RAKE | 25° |
| TRAIL | 150.0 MM |
| FUEL CAPACITY | 20.8 LITRES |
| WEIGHT (EMPTY TANK / FULL OF FUEL) | 370 KG / 385 KG (815 LBS / 848 LBS) |
| GVWR | 1385 LBS |
| | |
| --- | --- |
| STANDARD EQUIPMENT | ABS – – CAST ALUMINUM FRAME WITH INTEGRATED AIR-BOX – – CRUISE CONTROL; DRIVING LIGHTS – – HIGHWAY BAR – – KEYLESS START – – POWER WINDSHIELD – – PREMIUM LEATHER SEATS – – REMOTE LOCKING HARD SADDLE BAGS – – TIRE PRESSURE MONITORING – – 100 WATT STEREO WITH AM/FM BLUETOOTH AND SMARTPHONE COMPATIBLE INPUT |
| | |
| --- | --- |
| ELECTRIC | FAIRING MOUNTED INSTRUMENT CLUSTER FEATURING ELECTRONIC SPEEDOMETER, TACHOMETER, AND FUEL GAUGE WITH ODOMETER, DUAL TRIPMETERS WITH DISTANCE AND TIME, INSTANTANEOUS AND AVERAGE FUEL ECONOMY, FUEL RANGE, REAL-TIME CLOCK, AMBIENT AIR TEMPERATURE, GEAR POSITION DISPLAY, FRONT AND REAR TIRE PRESSURE, ENGINE HOURS OF OPERATION, ENGINE OIL LIFE PERCENTAGE, AVERAGE SPEED, BATTERY VOLTAGE, RADIO INFORMATION DISPLAY, VEHICLE TROUBLE CODE READOUT, HEATED GRIP LEVEL (IF HEATED GRIPS INSTALLED), AND 15 LED TELLTALE INDICATORS: CRUISE CONTROL ENABLED, CRUISE CONTROL SET, NEUTRAL, HIGH BEAM, TURN SIGNAL, ABS, CHECK ENGINE, LOW TIRE PRESSURE, BATTERY, LOW FUEL, SECURITY SYSTEM, LOW ENGINE OIL PRESSURE AND MPH OR KM/H UNIT DESIGNATION |
---
---
---