Mercedes Benz and Sony PlayStation Partner For A Racing Challenge in India To launch Grand Tourismo 6
Sony PlayStation has announced an exciting new challenge targeting the youth in India, the company has partnered with Mercedes Benz to unveil the Mercedes-Benz GT6 Racing Challenge across cities in India.
This is the first time in India, these brands will collaborate for the multi city gaming championship on Sony's PS3 console. This challenge from the company will take place in 42 PlayStation zones in retail stores like Reliance, Landmark, Croma, Jumbo and several gaming outlets like Game4U, Zinklo and Gamineazy among others throughout the country. Gaming freaks can take advantage of this challenge till 1st December 2013 across India.
Speaking on the initiative, Mr. Atindriya Bose, Country Head, PlayStation India said, "The partnership with Mercedes-Benz allows us to offer a combination of the virtual and real life experience of driving one's dream car. Gran Turismo 6 focuses on the high-end simulated driving experience. The GT6 branded Mercedes-Benz car is an opportunity to relive the experience in real life as well. "
Sony PlayStation and Mercedes Benz will be hosting all the Gran Turismo fans, as the Gran Turismo 6 game is all set to launch next month. In the gaming challenge started by both the companies, players will compete against other gaming freks on the GT5 game and 2 finalists will be showcasing their gaming skills, as they will compete against each other on the upcoming Gran Turismo 6. However, the game will officially launch in Mumbai on 6th December 2013.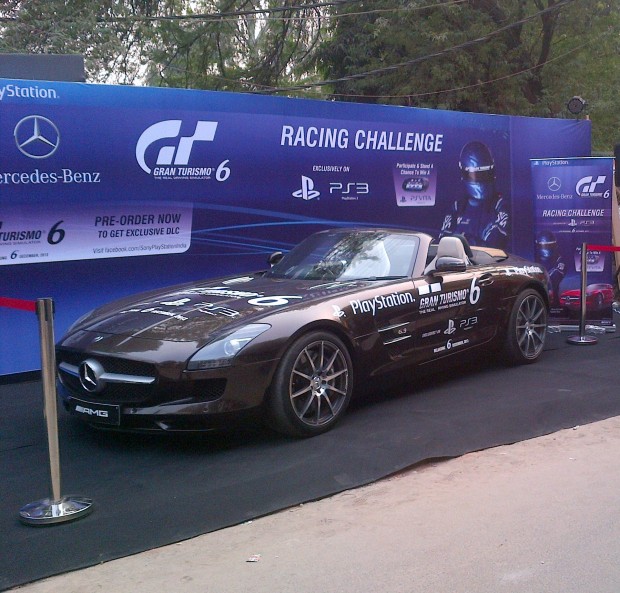 Sony playstation zones will be available across cities in Mumbai, New Delhi, Gurgaon, Bangalore, Ahmedabad, Kolkata, Chennai, Hyderabad, Lucknow and Pune.
Mr. Eberhard Kern, Managing Director & CEO at Mercedes-Benz India said, "Both the brands have the right synergies and we have seen this through all our partnerships with Sony PlayStation globally. I am delighted to extend this association to the Indian market as well. The technology used in the game is the closest one can get to drive the actual car and I am confident the Mercedes-Benz GT 6 Racing Challenge will create new levels of excitement for gaming enthusiasts.  I look forward to a great GT tournament."
That is not all, as both the companies have decided to bring the gaming car to the real world as well. As the Gran Turismo branded Mercedes-Benz cars will move across Mumbai and Delhi, providing a real life glimpse of the cars which are generally used in games. The overall concept by the company seems great, but this could have been better if the company planned to use PlayStation 4 instead of PS3.
---
---
---