Audi Manufacturing the Q3 in India
Audi India has started manufacturing the popular Q3 SUV in India at Aurangabad plant which it shares with Skoda. Now, Audi can roll out 13,000 cars from the Aurangabad plant. The Q3 joins the A4, A6,Q5 and Q7 as a locally assembled model. Audi claims that locally assembled car will reduce the waiting period on cars.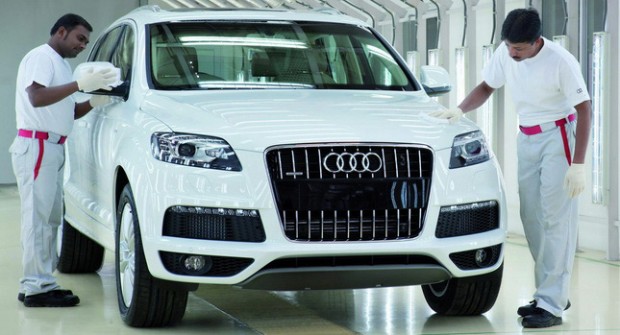 Audi currently has 27 showrooms across India with the latest one opened in New Delhi. Audi recently introduced the A4 with an updated 177PS 2.0 litre TDI engine and the front wheel drive Q3S. The company also got a new head of operations in Joe King who took over from Michael Perschke.
Local production of the Audi Q3 means that Audi India is now building all our Q range models locally. This will reduce waiting times for our customers and will enable us to offer a wider range of versions in the market. This move demonstrates our confidence in the success of our Q range, which has positioned itself as a leader not only in the product category, but has emerged as a lifestyle statement. We are confident that we will continue to retain our dominance in the luxury SUV segment in India," said Joe King, head of Audi India.
[toggle title="Press Release"]Start of production of Audi Q3 in India

• Audi Q3 is the fifth Audi model to be produced in India

• Dr. Frank Dreves, Audi Board Member for Production: "Expansion of our

production in India is part of our growth strategy"

• Total capacity at the plant for all Audi models is more than 13,000 units

now

• Audi sales in India up by 19 percent January to August 2013

Aurangabad, September 19, 2013 – Audi has started production of the Q3 compactclass SUV at its Aurangabad plant, in the Indian state of Maharashtra. After the Audi

A4, Audi A6, Audi Q5 and Audi Q7, the Audi Q3 is the fifth model to be produced in

India by the Ingolstadt carmaker.

"Local production of the Audi Q3 is part of our long-term growth strategy in India, one of the most promising auto markets in the world," said Dr. Frank Dreves, Audi Board Member for Production. "The infrastructure in the plant, efficient working processes, qualified workforce and a well-developed logistics environment, along with the growth potential of the Indian market, were the factors that motivated us to expand the product portfolio at the Aurangabad plant."

The Audi Q3 will be produced in the newly constructed hall at the group plant Škoda Auto India Private Limited (SAIPL) in Aurangabad, which covers a floor area of 20,000 square meters (215,278 square feet). The Audi Q7 is also produced in the same hall.

"Local production of the Audi Q3 means that Audi India is now building all our Q range models locally. This will reduce waiting times for our customers and will enable us to offer a wider range of versions in the market. This move demonstrates our
confidence in the success of our Q range, which has positioned itself as a leader not only in the product category, but has emerged as a lifestyle statement. We are confident that we will continue to retain our dominance in the luxury SUV segment in India," said Joe King, Head of Audi India.

Increasing demand from Indian customers for the Audi Q3, Audi Q5 and Audi Q7 SUV models has had a major impact on the brand's growth in India: Over the first eight months of this year, the Company increased its sales in the Indian market by 19 percent to 6426 vehicles (January – August 2012: 5406).

Audi currently produces the Audi A4, Audi A6, Audi Q5 Audi Q7 and now the Audi Q3 at the group plant Škoda Auto India Private Limited (SAIPL) in Aurangabad in Maharashtra. The whole-year capacity at the plant for all Audi models is more than 13,000 units in a one-shift operation.

Continuing with its strategy of product expansion, Audi India recently announced the launch of the Audi Q3 S Edition and the launch of the "Audi Club India", the first dedicated club for Audi owners in India. The company also opened its 3rd showroom in Delhi – Audi Delhi Central in August. This is the 27th Audi showroom in the country.

The Audi model range in India includes the Audi A4, Audi A6, Audi A7 Sportback, Audi A8L, Audi Q3, Audi Q3 S Edition, Audi Q5, Audi Q7, Audi S4, Audi S6, new Audi RS5 Coupé, Audi TT Coupé, the super sports car Audi R8, Audi R8 Spyder and the Audi R8 V10 plus available across the country: in Ahmedabad, Bengaluru, Bhopal, Bhubaneswar, Chandigarh, Chennai, Coimbatore, Delhi Central, Delhi South, Delhi West, Goa, Gurgaon, Hyderabad, Indore, Jaipur, Kanpur, Kochi, Kolkata, Lucknow, Ludhiana, Mumbai South, Mumbai West, Nagpur, Navi Mumbai, Pune, Raipur and Surat.[/toggle]
---
---
---