Volkswagen e-Golf Unveiled, Charges 80 Percent in 30 Minutes
The e-Golf was unveiled at the Frankfurt show  though the car is launched later than it was expected, the German automaker says it will be available by late 2014 or early 2015. The car has full LED-headlamps, the previous range has been increased from 100 miles to 118 miles. E-Golf has a battery that goes from dead to 80 percent charged in a half an hour.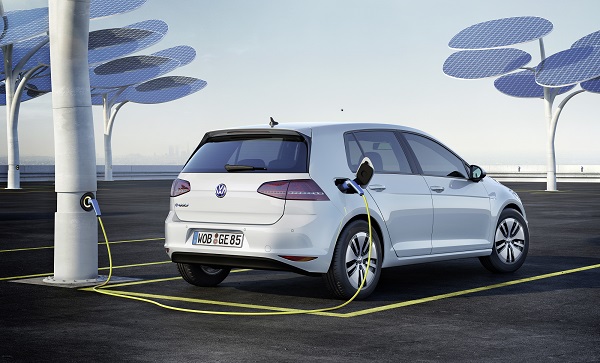 The e-Golf is powered by an 85 kW1 / 115 PS1 electric motor. From a standing start the synchronous motor, internally called the EEM 85, develops a maximum torque of 270 Nm. The Volkswagen reaches a speed of 60 km/h within 4.2 seconds, and after just 10.4 seconds the e-Golf is up to 100 km/h. On the motorway the top speed levels off, electronically limited, at 140 km/h.
The 12,000-rpm motor is developed by Volkswagen, along with the single-speed gearbox (EQ 270) with integrated differential and mechanical parking brake form a compact module. The motor/gearbox unit is made in Volkswagen's components plant in Kassel, Germany.
The e-Golf has a kerb weight of 1,510 kg, of which 318 kg are accounted for by the lithium-ion battery. It is made up of a total of 264 individual cells, which are integrated into 27 modules (each with six or twelve cells). The cells add up to a nominal voltage of 323 V. Battery capacity: 24.2 kWh.
The battery is fitted at the front with a battery management controller (BMC), which performs safety diagnosis and monitoring functions and also regulates the temperature balance in the battery junction controller (the interface to the motor's energy supply). When the car is not in use or in the event of a crash, power from the battery is automatically cut off.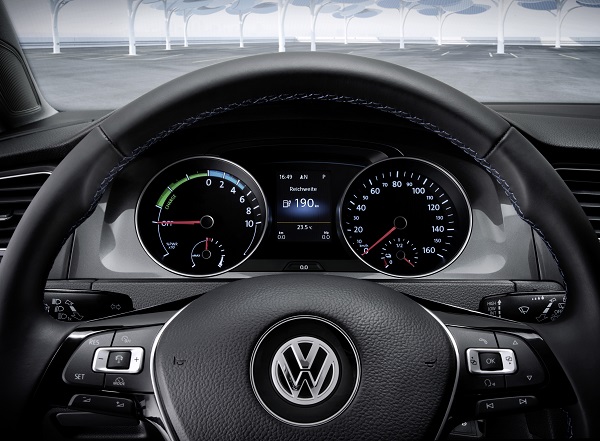 Two technologies of primary importance in relation to optimal utilisation of the vehicle's energy are the two driving profiles designed for energy economy ('Eco' and 'Eco+') and the four different levels of regenerative braking ('D1', 'D2', 'D3, and 'B'). After going through all this features, you might also want to know that this the first car from Volkswagen sporting LED lights.
---
---
---