Delhi's Odd-Even Scheme Reduced Pollution Levels Up To 13 Percent
The 15-day odd-even experiment in Delhi that saw odd-numbered cars plying on odd days and even-numbered vehicles plying on even days has come to an. The idea was to reduce the dangerously high pollution levels in the city. 15 days later, the one question on everyone's mind is whether the odd-even experiment was a success.
For 15 days, commuters in Delhi were able to enjoy traffic-less journeys to and back from work. At the same time, the pollution was meant to be kept in check, and on that front new reports have suggested that the odd-even scheme reduced hourly particulate air pollution concentrations by 10-13 per cent. However, it must be known that gathering air pollution data isn't easy as the data is limited and sources many. It's not easy to determine just how much of a dent the odd-even pilot has made. One cannot rely on the trend alone.
A new study conducted by Michael Greenstone, Santosh Harish, Anant Sudarshan and Rohini Pande of Indian Express showed that the odd-even pilot indeed made a difference, reducing hourly particulate air pollution concentrations by 10-13 per cent.
The study involved gathering real-time vehicle speed data from Uber Delhi that revealed that during the odd-even programme, average speeds went up by 5.4 per cent (2.8 per cent standard deviation from normal). Another point to note is that lower congestion actively reduce pollution levels as there's less idle time spent during slow-moving traffic.
Next, the data was collected on from hourly air pollution numbers from 23 monitors in Delhi, and three monitors from Faridabad, Gurgaon and Noida, where the odd-even policy was not implemented. In December, the pollution trend od Delhi and its neigbouring regions were similar due to reasons like crop burning, among others. After the scheme eneded, there appeared to be 10-13 percent decline in the levels.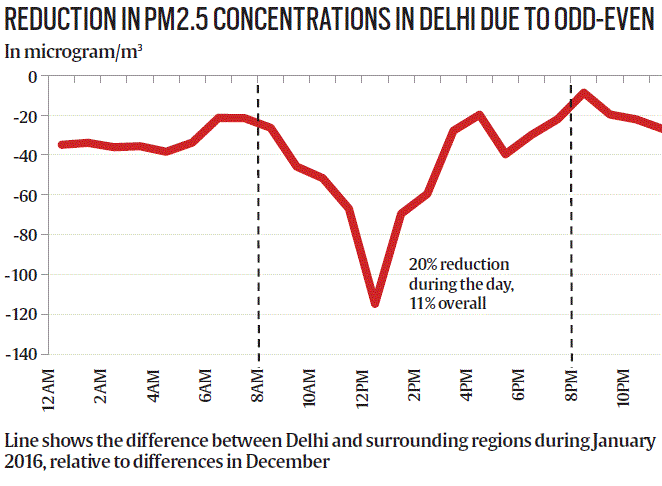 Now, while the odd-even formula seems to have made an impact for the 15 days that it was active, there is no guranteeing that this would translate the same in the long run. Delhi Chief Minister Arvind Kejriwal has stated that before it implements the next phase of the odd-even shceme after March, two key issues need to be addressed.
Firstly, the odd-even scheme as was implemented in Mexico City saw a rise in car sales as people began purchasing a second vehicle with an alternative number plate. Transport Minister Gopal Rai stated that certain mesures need to be taken to discourage families in buying a second vehicle.
The second concern was about schoolchildren. "A number of parents drop and pick up their children from school. We don't want to inconvenience them," Rai said. Dropping children to school in the morning was not the problem but picking them up in the afternoon is an issue that needs to be addressed.
We'll just have to wait and see how the Delhi government plans to deal with the issues and how the next phase of the odd-even scheme will be implemented.
---
---
---