Porsche 911 and 911 Turbo S Unveiled
At the Detroit Auto Show, Porsche made its presence felt by unveiling two smashing new cars in the form of 911 Turbo and Turbo S. The new Turbo line comes just months after Porsche unveiled the Carrera models. The new Turbos are big on power and pressure with outputs of 540bhp and 580bhp respectively.
The new Turbos, much like its predecessors, are turbocharged and come with a 3.8-liter flat V6 engines. The PDK seven speed dual clutch transmission and the sophisticated all-wheel drive system are what powers the car forward. The Turbo can go from 0-62 mph in 3 seconds with a top speed of 199 mph, the Turbo S can jump from 0-62 mph in an incredible 2.8 seconds flat with a top speed of 205 mph.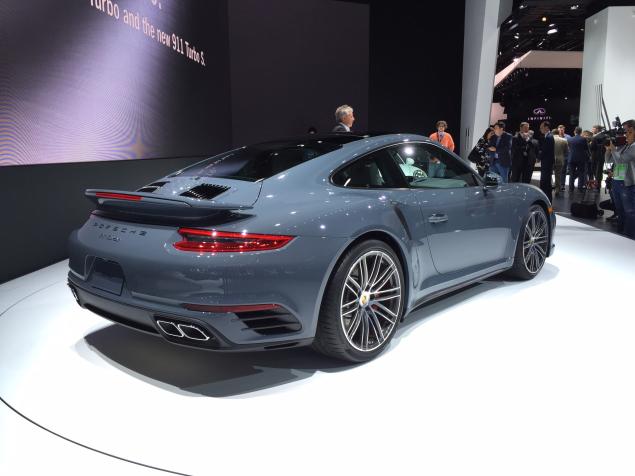 The new 911's are all about excess –  in terms of power, equipment, and style. Carbon-ceramic brakes come standard and so is an anti-roll system. Dynamically, this car is ready to take on any supercar out there.
In terms of looks, the 911 Turbo and Turbo S are distinctly Porsche. The front and rear sport signature Porsche fasciae. Angular quadruple tail-lights, and 20-inch wheels are some new features to this lineup. The inside feature some design change as well. The steering wheel gets a GT-like design inspired by the 918 hybrid. A 7-inch touchscreen sat-nav and infotainment system, dual-zone climate control, Bose speakers and leather seating complete the look of the car.
The new Turbo models can continuously regulate the damper force for each wheel according to the road's surface condition with the new Porsche Active Suspension Management (PASM), which is also seen in the Carrera models.
The new Porsche 911 are set to hit the roads next month. Prices range from £126,925 for the Turbo coupe to £154,614 for the top-spec 911 Turbo S.
---
---
---