Hyundai Teases its First All-Electric Vehicle
Looks like all major car manufacturers are getting into the EV business. Hyundai is ready to join the list by unveiling its first fully-electric plug-in car, the Ioniq. The company has released teasers of the car that shows the makers are as focused on the aesthetics as much as emissions.
The Ioniq will not only arrive in an all-electric version, but will also have gasoline-electric and plug-in electric options as well. Hyundai says that this is the first time a vehicle will be sold with three different environmentally-friendly powertrain options to choose from.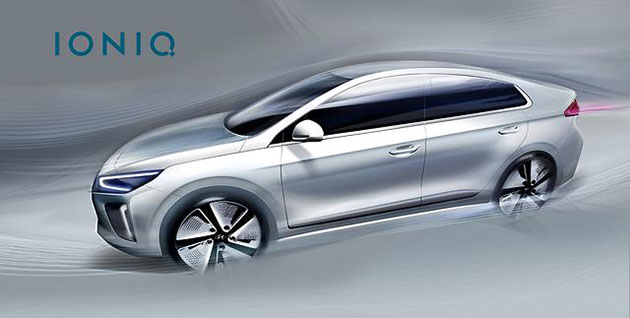 The renders of the Ioniq do not reveal much in terms of details, but it does give a decent look at what the car could look like. The neat lines across the exterior shows a coupe-like design that minimizes wind resistance.
The interiors are made of ec-friendly materials and minimal design to reduce clutter and keep things clean. Furthermore, Hyundai and sister company Kia have expressed interest in autonomous driving technologies as well.
In fact, Kia is plans to showcase its autonomous driving program at the CES 2016 in January. Dr. Tae-Won Lim, Vice President of Central Advanced Research and Engineering Institute of Hyundai Motor Group, said: "Thanks to this licence we will be able to accelerate the testing of our new autonomous driving technologies that are currently in the early stages of development, with particular emphasis on our alternative powertrain vehicles. We are confident that our latest innovations will ultimately make driving safer for all road users."
The Ioniq will debut in Korea in January before being showcased at the Geneva Motor Show and New York Auto Show in March.
---
---
---