Chevrolet India Partners With Amazon India for Booking of the Chevrolet Trailblazer
In a first of its kind initiative for premium vehicles in the country, Chevrolet India has teamed up with Amazon India for booking of the Chevrolet Trailblazer. Customers will now be able to book the Trailblazer at the showroom as well as on Amazon India. Books for the premium SUV will begin on 21st October.
Arvind Saxena, President and Managing Director, General Motors India, said, "The Chevrolet Trailblazer is a powerful car and it needs a powerful introduction. That's why we are partnering with Amazon India, to change the way consumers can purchase a car. This is a first of its kind promotion for premium vehicles in the booming Indian e-commerce space and will enable us to create an entirely new and unique experience for Chevrolet Trailblazer customers."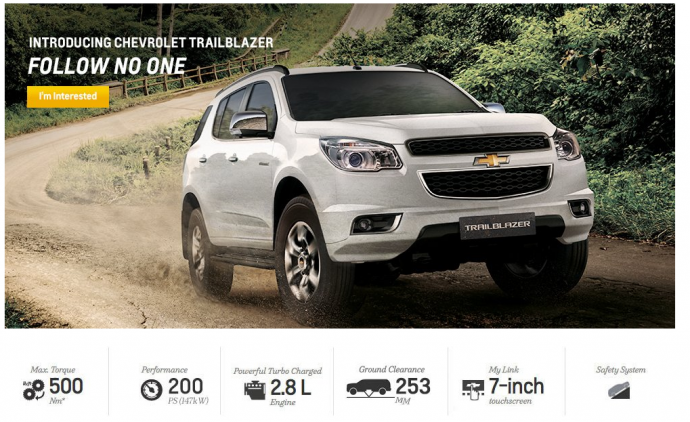 Chevrolet India has seen the tremendous rise in e-commerce and wants to capitalize on that. "The evidence for e-commerce is compelling: around 65 million consumers in India will buy online this year against around 40 million in 2014. We found that many of our customers already refer to online platforms before they buy a vehicle, especially in the premium segment, and this new approach makes buying a Chevrolet car an even more consumer friendly process," Saxena added.
The Chevrolet Trailblazer has made its debut on Amazon India today. You won't be able to book it just yet, but the page gives you some insights into the SUV. The SUV will have a 2.8-liter Duramax diesel engine that produces 200 PS (147kW) @3,600 rpm and 500 Nm of torque. The SUV also has a MYLINK 7-inch touchscreen where you can link up to your entertainment on the go.
---
---
---