Volkswagen India Directs Dealers Not To Sell Polo In India
Nowadays, any Volkswagen news seems to bring about an unsettling feeling, mostly because you expect it to be related to the recent emission cheating scandal. Here's some news that is assuredly unrelated to the scandal (so VW says) but you just cannot help keeping that at the back of your head.
On Wednesday, Volkswagen India directed its dealers not to sell any Polo vehicle in the market with immediate effect. The company issued a letter to the dealers which read, "we request, not to physically deliver any Polo vehicle (all variants) with immediate effect till further notice from VW." The letter was signed by two Volkswagen India officials, Ashish Gupta, Head of After Sales – Operations and Pankaj Sharma, Head of Sales Operations.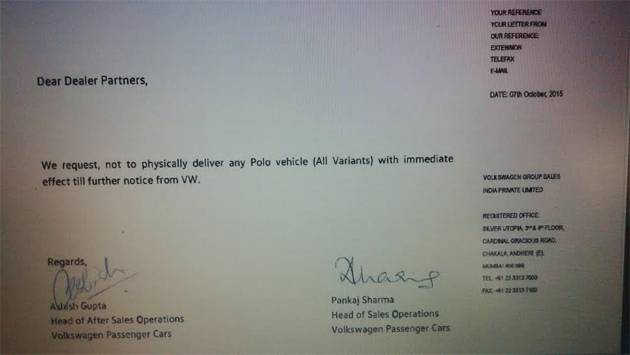 It was a short letter that does not reveal the why of it, and the company has said a detailed statement will be shared later. However, VW India has clarified that this has nothing to do with the scandal and has cited technical issues instead. "Volkswagen India has confirmed a temporary hold on deliveries of its carline Polo due to a technical reason which is currently under evaluation," said a spokesperson at Volkswagen Passenger Cars India.
VW India produced 20,030 units of Polo between April and August this year. Earlier this week the company said that it is evaluating the impact of the emission scandal on Indian operations. The Automotive Research Association of India (ARAI) has asked Volkswagen India to present details on cars using the EA189 engine. The company has stated that 11 million VW cars fitted with EA189 engines have been affected globally. The software in the engines were rigged to cheat during emission tests. We'll bring you more on the story as it develops.
---
---
---