Mercedes-Benz Launches Maybach S500 and S600 in India
German luxury car giant Mercedes-Benz India on Friday announced the production the Mercedes-Maybach S500. Bookings of the car opened at a price of Rs. 1.67 crore (ex-showroom Pune) which is the costliest locally-assembled car in the country.
Apart from the Maybach S500, the German company also introduced the imported the Maybach S600 in the domestic market, which comes at a starting price of Rs. 2.6 crore. Bookings of the Maybach S500 have already begun and the company has revealed that it has sold out the allocated units of the S600 for 2015 within two weeks of opening bookings.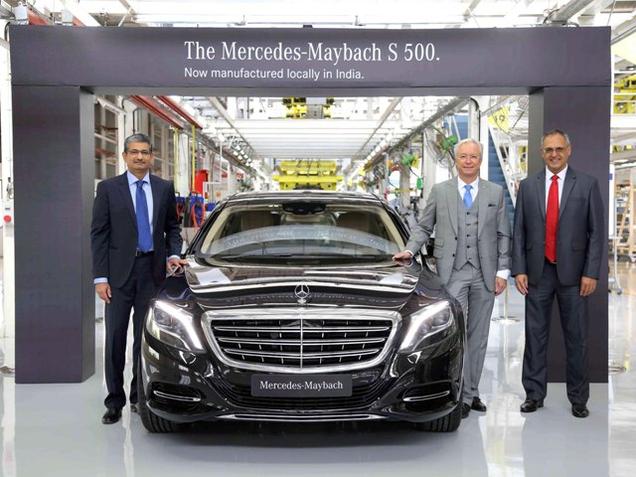 Mercedes-Benz India's outgoing MD and CEO Eberhard Kern expressed that "this will definitely give a big push to the government s 'Make in India' initiative. It also shows the proven prowess of India in manufacturing world class products."
The Maybach S500 will be the eighth model of Mercedes-Benz to be manufactured in India, which includes C, E, M, S Class models and the CLA, GLA and GL Class models. As of now the company has introduced 12 models in India with three more scheduled to come out by the end of the year.
"This car is the most prestigious and exclusive offering from us till date. It will strengthen our presence in the topmost end of the luxury car market in India," Kern said.
Among other feautures, both the models will debut rear seatbelt airbags and cushion bags for the first time in India. The Maybach S500 will come with 4.6 litre V8 twin-turbo engine delivering 455 hp, while the S600 sees a 6.0-litre V12 twin-turbo engine delivering a total of 530 hp that lets the car sprint to 100 km/h in a respectable 5.0 seconds.
The unveiling of the two models brings an end to the three-year tenure of Kern, who will be relocating to Europe. He will be replaced by Roland S. Folger, who will run the operation in India.
---
---
---