Electric Motorcycles Go Mainstream with Harley Davidson LiveWire
Harley Davidson is an iconic company when it comes to motorbikes and has no doubt come a long way from when it was started. Harley's latest venture, dubbed as Project LiveWire, was announced in June and is the company's first attempt at an electric motorcycle.
Overall, the LiveWire boasts a 74 horsepower motor – beating by a fair bit the Prius's 60 hp. According to reports the bike can go 53 miles between charges and takes just 3.5 hours to charge on a 220-volt outlet. And it can hit top speeds of 92 mph – not too shabby.
The clutchless transmission equipped electric motorcycle, Harley claims will hit the 100kmph mark within four seconds, limited to a top speed of 150kmph.  The subframe appears bolted on – easy if you're working crash damage out and you can see beefy direct-link monoshock nestled in the frame forward of the rear wheel.
Matt Levatich, President and Chief Operating Officer said, "America at its best has always been about reinvention…And, like America, Harley Davidson has reinvented itself many times in our history, with customers leading us every step of the way. Project LiveWire is another exciting, customer-led moment in our history."
Electric motorcycles are much less intimidating for a novice rider, since they lack the distraction of a clutch and gears. Motorcycle makers, Harley included, are desperately trying to reach women and younger buyers who may lack the traditional rider's bias toward gas-powered vehicles.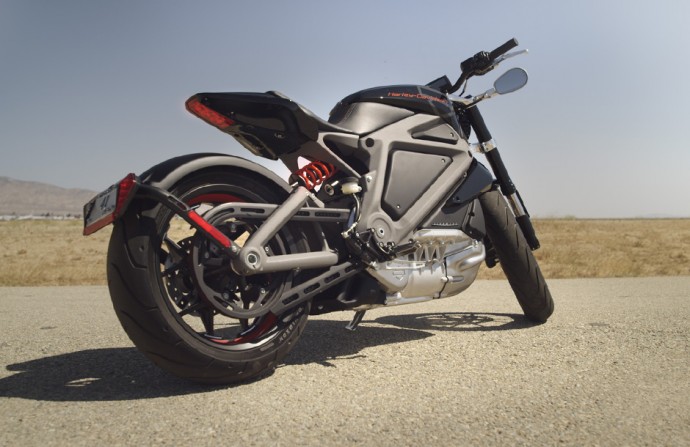 "Project LiveWire is more like the first electric guitar – not an electric car," Mark-Hans Richer, Senior Vice President and Chief Marketing Officer of Harley Davidson, said in a statement. "It's an expression of individuality and iconic style that just happens to be electric."
The Project LiveWire Experience began with a 30-city tour across America starting June 24th in New York City, where riders will be invited to take a historic ride. Main idea behind this is to understand the rider's perspective on the bike and solicit feedback from them before starting with mainstream production.
---
---
---